The phenomenon of online gaming as a way of life in various parts of the world today is pretty amazing.Activites play and online game is suppose to beat the existence of sites friend ship popular such as Facebook,Twitter,Friendster and Multiplay, and websites that provide online video.
Penchant of people to play games can not be separated from the innovation and improvement product reported by the vendor console games.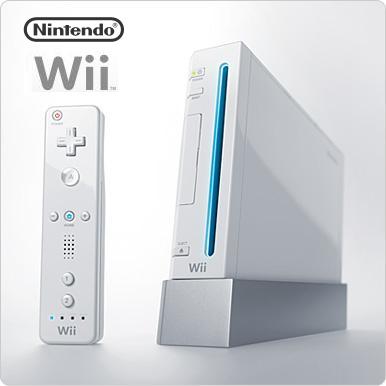 Nintendo Wii
There are onsole games that could change the paradigm of playing games in the revolutionary Nintendo Wii is the answer.During this time people play games,physically,tend to be passive and static look at the monitor.But with the presence of the Nintendo Wii,people become more dynamic,atratif and sweaty when playing games.Understand it,console games this one is really relying on the players motion sensor.For example,we play golf,tennis or bowling,then he movements performed by players we should play sport with actual movement.
Later,the vendor from Japan's launch the latest version,named Wii Fit Plus.This Console allow users to compete with the opponent to play over the internet.In addition,a number of game media can be a workout that can improve the health of the body by way f playing.Wii Fit Plus features a shoulder width "balance board" that can be used to monitor weight loss and exercise can in use for various sports and game variations.This latest game series have more precision in measurement so that could be used to monitor the level of a person's health more accurately.
Wii sounds like "We" which emphasices that the console costs about 2.5 million dollars is for every one.Wii is very easy to be remebered by people around the world,what ever their language.There will be no confusion.Wii has become the most popular console of this generatio,selling more than 50 million units and make both song and Microsoft to implement the motion sensor on each stick.
Sony PSP GO
One manufacturer of game console the mos productive and innovative today is Sony with the PlayStation or PS product.Since it was first introduced to PS was enter third generation.For variants in addition to PS,there is the PlayStation portable and PlayStation Portable GO.Final variant to rival the popularity of its competitors.Launched the Nintendo DSi which has been marketed in April.
PSP GO is a game console that is lighter and slimmer than the previous PSP handheld.More compact because of the physical aspect,the design of PSP GO prepared with a sliding model.Navigation panel appears as the screen is not shifted like a standard PSP elongated shape with left-right navigation bar on the screen. He has a 3.8-inch screen,the weight which is 43 percent lighter than the PSP-300,capacity of 16GB flash memory,support Bluetooth connections,and all digital content that is contained in the Universal Media Disc (discs that use PSP).
Sony sells PSP GO in October yesterday with the price of 249 Euro (about USD 3.6 million) in Europe,and priced at us $249 (USD 2.5 million) in North America.In Indonesia,the PSP GO priced at USD 3.599 million price range.
PC Games
Playing Games is not always with the console games.If you do not have a console,then the options that realible is playing games on the PC or personal computer.
From th simplest games to 3D games,all can be operated in a PC.Even later,the notebok has been able to run games that require large memory and powerful processor whose capacity is equivalent to a PC.
There are advantages and disadvantages to play games on the PC.The first is a metter of practicality.The console is more practical and does not require an operating system for configuration compliance to update the drivers to know that the game is compabible or not with a PC.Multiplayer games are also easy to do thisno with the help of vendors like Microsoft to offer online services for their products.Like wise with the Xbox is equpped with a network card to connect via the Internet complete with voice chat.
Instead,the console is a machine with a unity that is not simple,when some component is damaged,there is no way to solve the problem without replacing the entire console.And that wold be difficult to upgrade to the console.Then the console is flexible and can only be used for playing games,while PC can be used as the multifunction machine.